Isabel Abad Obituary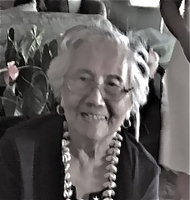 July 2, 1920
-
July 30, 2013
Obituary
Resident of San Jose
Isabel G. Abad passed peacefully of natural causes on July 30 to become a forever heavenly angel. Born 93 years ago on July 2, 1920, she arrived in the U.S. from the Philippines in 1946 to join her husband, Otilio. Together they raised 7 children. Isabel has 10 grandchildren and 4 great grandchildren.
Family and friends are invited to attend a Vigil Service Thursday, August 8, 2013 at 7:00 p.m. at LIMA-CAMPAGNA-ALAMEDA MISSION CHAPEL, 600 S. Second Street, San Jose, with Visitation beginning at 4:00 p.m. Funeral Mass Friday, August 9, 2013 at 10:00 a.m. at St. Victor's Church, 3108 Sierra Road, San Jose. Interment to follow at Oak Hill Memorial Park.
To plant a tree in memory of Isabel Abad, please visit our
Tribute Store
.