Maty Sabater Obituary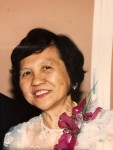 June 25, 1932
-
April 9, 2019
Born in Philippines
Resided in

San Jose

,

California
Obituary
Maty entered into rest at age 86 on Tuesday, April 9, 2019. She was born on June 25, 1932 to Ildefanso & Placida Pulmano (both deceased) in Balaoan, La Union, Philippines. She was the 3rd youngest of 8 siblings, Maria Dolores (deceased), Peregrine (deceased), Luz 'Jesse' (deceased), Benigno (deceased), Rosa ' Ching' (deceased), Edith (deceased), and Octavio. Along with 6 of her siblings and their father, Maty survived WWII as a child. Maty graduated from La Union High School in 1951. Thereafter she received a Teachers Certfication from Pangansinan Normal and continued her education to receive a Bachelors degree in Education in 1962 from Philippine Normal College. Shortly after, she started to pursue her Masters degree in education. She was a very active and successful elementary school teacher in the Philippines. She also enjoyed playing the violin, banjo, piano, volleyball, and girl-scouting.
In 1964, while teaching and pursuing her masters at the same time, she met Vivencio (Ben) Sabater, her future husband and father of her children. As a bus driver, Ben would always save a spot for Maty on the bus, and eventually, they fell in love and married in 1964. Two years later, their first child, Rosemarie Sabater Tice (daughter and married to James Tice) was born.
Many immigrants came to the US to seek a better life for their family. With that being said, in 1968, Maty, Ben, and Rosemarie immigrated to the United States. In the same year, she gave birth to Hilario Sabater (deceased son). Two years later in 1970, a joyful addition to the family came Violeta Sabater-Stanfill (daughter and married to William Stanfill). With their growing family, and with money saved, they were able to purchase their home in San Jose, CA in 1971. A year later in 1972, after settling into their new home, their youngest, Hershel Sabater (son) was born.
Maty was a teacher at heart but living in the Bay Area, she pursued work in the Silicon Valley industries. She worked during the days and went to school at night to get her technician certifications. She worked at various companies as a hardware systems technician, but spent most of her career working at Hewlett-Packard, where she retired in 1992. She accomplished all this for herself, while continuing to be the best mother she can for her children. She would go to every parent-teacher conference, take them to piano lessons, and engage with them at other school activities. In her spare time, she would play the piano, cook, sew, and volunteer to tutor. Also, she would travel with her family to see her siblings cousins, and their children in Vancouver, Los Angeles, and back home in the Philippines. Finding and staying in touch with her family members was very important to her.
After retirement, she spent much of her time traveling back home to the Philippines, while also caring for her grandchildren, Natalie (Rosemarie's daughter), Matthew (Violeta's son), Jasmine (Violeta's son), Jayden (Hershel's daughter), and Benjamin (Hershel's son). She would often times tell them stories of her life, explain her family tree, share with them her love of music, teach them about her holistic way of living, and cook them delicious meals!
Maty greatly impacted the lives of her family and loved ones, leaving them with deep sadness over her passing, but much to celebrate over the life and love that she shared with them.
Family and friends are invited to attend a Visitation Monday, April 15, 2019 from 12:00 P.M. to 9:00 P.M. at LIMA-CAMPAGNA-ALAMEDA MISSION CHAPEL, 600 S. Second Street, San Jose, with a Prayer Service to start at 6:30 P.M. Visitation continues on Tuesday, April 16, 2019 from 9:00 A.M. to 2:00 P.M. at the above chapel. Vigil Service to follow at 4:00 P.M. at ST. VICTOR'S CHURCH, 3108 Sierra Road, San Jose. Funeral Mass Wednesday, April 17, 2019 at 12:00 P.M. at ST. VICTOR'S CHURCH, 3108 Sierra Road, San Jose. Interment to follow at Gate of Heaven Catholic Cemetery.
To plant a tree in memory of Maty Sabater, please visit our
Tribute Store
.
Services
To plant a tree in memory of Maty Sabater, please visit our Tribute Store.
Visitation
Lima-Campagna-Alameda Mission Chapel
600 South Second Street
San Jose
,
CA
US
95112
Visitation
Lima-Campagna-Alameda Mission Chapel
600 South Second Street
San Jose
,
CA
US
95112
Vigil
St. Victors Church
3108 Sierra Road
San Jose
,
CA
US
95132
Funeral Mass
St. Victors Church
3108 Sierra Road
San Jose
,
CA
US
95132
Burial
Gate of Heaven Cemetery
22555 Cristo Rey Drive
Los Altos
,
CA
United States
94024