Teresita Gomez Obituary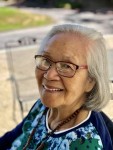 April 9, 1926
-
April 27, 2019
Born in Philippines
Resided in

San Francisco

,

California
Obituary
Teresita Birco Gomez, 93 years old, joined the presence of her Lord and Savior Jesus Christ on Saturday, April 27, 2019. Throughout her life and especially during her last few years with us, Teresita persevered in her faith and prayed for her loved ones, relatives, and friends constantly. Today, she continues to pray for all of us from heaven with her usual beautiful smile as her love for us will be eternal, just like our Lord's love for His children.
Teresita was born on April 9, 1926 in the Philippines and was the oldest of 10 children. As her father Ambrosio Birco was a sergeant in the United States Army and served during World War II, she embodied his courage and protectiveness for loved ones, and her mother Purita's perseverance and faith in the face of adversity. Teresita married her husband Felicisimo (Dody) in the early 1960's and later gave birth to her children Anna Christine (Chris) and Giovanni (Gio). Inspired by her calling to be an educator, Teresita went on to graduate from the University of Santo Tomas and obtained two graduate degrees, including a Master's degree in Guidance and Counseling from Ateneo de Manila University. She subsequently served as the College Dean at Pasig Catholic College for several years touching many lives while she exemplified qualities of leadership, discipline and compassion. In 1977, her husband passed away unexpectedly, and since then raised young Gio and Chris by herself powered with the same qualities and faith by which she will always be remembered.
Teresita lived a fruitful and blessed life in San Francisco, California for 37 years with Gio and Chris. Along the way, she met her future son-in-law Ross and welcomed into her world her beautiful granddaughters Chelsea and Haley whom she considered two of her greatest blessings. Teresita was a source of unconditional love for Gio, Chris, Ross, Chelsea and Haley, and they will miss her with all their hearts and think of her lovingly many times every day. They will be comforted by the knowledge that she has come face to face with her Lord and Savior Jesus Christ and that they will see her again - in heaven - one day.
In addition to Gio, Chris, Ross, Chelsea and Haley, Teresita is survived by many family members who have expressed their love of her, including her siblings Remedios, Lourdes, Antonio and Rosario, and their respective families; and by her nieces, nephews, cousins, and their families.
Gio, Chris, Ross, Chelsea and Haley are comforted by God's Word, and would like to provide the same comfort to Teresita's siblings, relatives and friends with these verses from the Apostle Paul in 2 Corinthians 5:6-8:
Therefore, being always of good courage and knowing that while we are at home in the body we are absent from the Lord,
For we walk by faith, not by sight
We are of good courage, I say, and prefer RATHER TO BE ABSENT FOM THE BODY AND TO BE AT HOME WITH THE LORD
They have also found encouragement in Matt Redman's song "One Day (When We all Get to Heaven)" which movingly reminds us that:
When we all get to heaven
What a day of rejoicing that will be
When we all see Jesus
We'll sing and shout the victory
One day we will see face to face, Jesus
Is there a greater vision of grace
And in a moment, we shall be changed
On that day….
Teresita's Funeral Service will be presided by Fr. Arthur Yabes at the chapel at Lima & Campagna Sunnyvale Mortuary at 1315 Hollenbeck Avenue, Sunnyvale, California, on Thursday, May 2, 2019 at 11 AM. At 2 PM, Teresita will be laid to rest at Gate of Heaven Cemetery at 22555 Cristo Rey Dr, Los Altos, CA 94024.
Teresita's children praise God and thank Him for His love, especially at this time, and for the many wonderful years they had with their mother who is now with our Lord Jesus who said, "In My Father's house are many dwelling places; if it were not so, I would have told you; for I go to prepare a place for you." (John 14:2).
To plant a tree in memory of Teresita Gomez, please visit our
Tribute Store
.
Services
To plant a tree in memory of Teresita Gomez, please visit our Tribute Store.
Funeral Service
Lima & Campagna Mortuaries Sunnyvale Mortuary
1315 Hollenbeck Ave.
Sunnyvale
,
CA
US
94087
Burial
Gate of Heaven Cemetery
22555 Cristo Rey Drive
Los Altos
,
CA
United States
94024